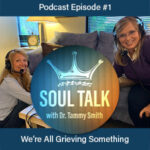 On this first episode of Soul Talk, Tammy chats with friend, pastor and teacher, Zoe L Hafner, about the journey we are all on right now whether or not we realize it: the journey of grief.
Tammy offers a rich understanding of grief that goes beyond loss and sadness, and Zoe shares candidly about her journey with grief – the darkness, the pain and the sweetness of Jesus through it all.
Listen today, share with a friend and let us know what topics you would like for us to cover. Stay tuned for more details on Episode Two.