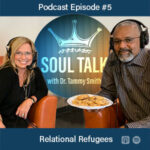 Ever felt like you don't quite fit anywhere? Join Dr. Kevin Dudley and Tammy for a thought-provoking discussion about the concept of "relational refugee."
Kevin shares his fascinating journey as a young black man raised in a single-parent home, through various denominations, cities, and people groups to the place he is today as leader of a multi-ethnic, ecumenical movement of people towards unity for the advancement of the Kingdom of God.
Together, he and Tammy explore various nuances of this multidimensional concept and how it can apply to the deepest corners of our heart as well as the farthest reaches of our society.